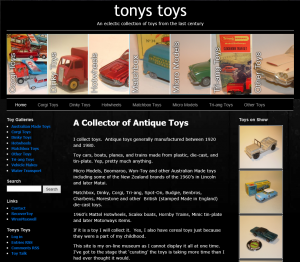 A new link to Tonys Toys personal toy collection has been added to the menu here at RecoverToy. A lot of the parts we have and knowledge around antique die-cast toys is due to the collection that has been built up over the last 30 years or so, as well as childhood memories.
The collection includes toys from Corgi, Dinky, Matchbox, Mattel, Tri-ang, Australian Micro, Streamlux, Hong Kong Plastic from CH and TLC, Lincoln International and many others including a collection of R&L Cereal Toys.
While you have a look around the RecoverToy store and site, also hop over to Tonys Toys collection site for a stack of photos and information about antique toys from the 20th century.