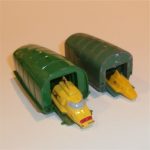 Issued in the 1990's the Matchbox Thunderbird 2 model scale is larger than the 1960s' issue Dinky Toys model, and includes an out of scale Thunderbird 4 submarine.
In this side-by-side comparison, the left-hand pod and Thunderbird 4 are from the 1990 Matchbox model while the right-hand side is the Dinky Toys model 101 pod.
The Matchbox Thunderbird 4 is large and fills the entire pod door-way with the exhausts just fitting in the width and the tail fin scraping the top of the pod door frame.
The Dinky Toys model shows similar characteristics even though the pod and Thunderbird 4 are a smaller scale.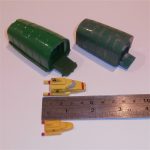 Overall the measurements show that the Matchbox Thunderbird 4 is almost 50% larger than the Dinky Toys version. The Matchbox model being around 44mm compared to the Dinky Toys one at around 30mm.
Looking back at the television episodes, the width of the rails that extend from pod 4 to launch Thunderbird 4 into the water, are probably only half the width of the pod door.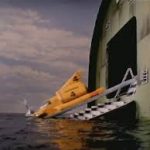 This still-shot from an episode shows Thunderbird 4 is dwarfed by the pod as it runs down the rails.
With that in mind I swapped the Dinky Toys reproduction Thunderbird 4 with the Matchbox version in the larger pod and the scale looks a whole lot better. Ok, so why are they out of proportion? I'd take a guess that Matchbox looked at the size of their Thunderbird 2 and simply created a fit-to-container version of Thunderbird 4. It might also relate to the audience and making it too small might be a choking hazard for the young children in the target market.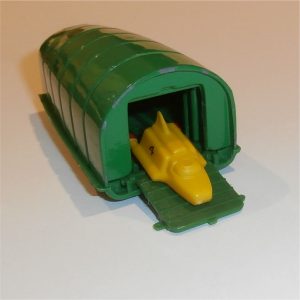 From a display perspective and as an adult not prone to trying to swallow my Thunderbird models, I think the smaller Dinky Toys version suits the Matchbox model much better, even though it is probably still too big.
If your Thunderbird 2 is missing its Thunderbird 4, RecoverToy supplies the reproduction version as shown in the photo above. Order a Dinky Toys 101 or 106 Thunderbird 4 Submarine for Thunderbird 2