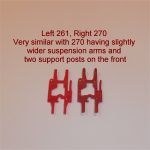 There are two versions of the Corgi Toys James Bond Aston Martin Suspension Units 261 270 which fit the early Gold 261 and later Silver 270 coloured models.
The 271 Aston Martin is different as a larger approximately 1:36 scale model while the 261 & 270 are closer to 1:43 although none are exactly to scale.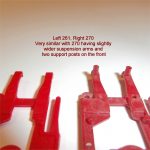 The 261 & 270 share many similarities and some replacment parts,like the driver, ejector seat and retainer. Other parts like the roof hatch, rear shield, and features that were added to the later issue 270 are different. In particular the window unit is completely different between the two models due to casting differences. The suspension units for the models differ slightly and while they could be interchangeable, the 270 suspension was made slightly stronger with wider 'arms' for the axle supports and the addition of two small posts that rest against an additional metal frame inside the upper casting.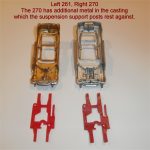 Another minor change was the post in the front right-hand side of the base-plate was made longer and flared as a rivet retainer in the 270 while the 261 did not pass through the plastic suspension and was just a locating pin. In the images you can see an extra hole on the right side arm of the 270 suspension unit.
Corgi Toys 261 Gold James Bond Aston Martin has machine guns that will spring out from the front of the car. The 270 Silver Aston Martin version had the bumper over-riders also extending out with the machine guns. As a part of this change an extra cast box section was added to the inside front of the casting. The additional suspension support posts rest against this metal frame providing extra suspension support.
Parts for restoring these 1960 and 1970 issue Corgi Toys James Bond Aston Martin models are all available from RecoverToy.