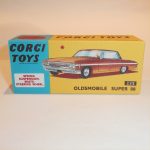 A new addition to our reproductions is a Corgi Toys 235 Oldsmobile Super 88 Sedan Box.
This model casting was used for both a standard sedan and the Corgi Toys 237 "Sheriff" version with roof light.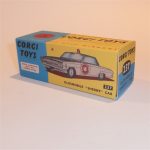 Of course the Oldsmobile was also used as the basis for the Corgi Toys 497 Man from UNCLE "Thrushbuster" vehicle.
The Oldsmobile Super 88 Sedan was issued in either a pale blue or a metallic blue, both with white side stripes. The Sheriff car was only black with white side panels, while the Man from UNCLE version was generally in a dark metallic blue or the rare cream colour.
Our reproduction boxes are available for all of these models.