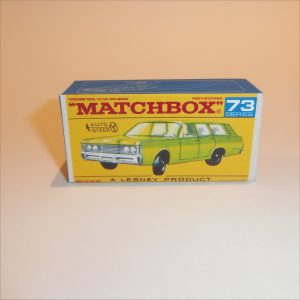 We were recently asked for a Matchbox Mercury Commuter 73 Repro Box and in the process of doing so we confirmed three variations of the box for this model.
This is one of the true transitional models that appeared with both the early regular wheels and the later Superfast wheels.
At the time of the first issue Regular Wheels model the boxes were done in the F style, circa 1967. As the first Supefrfast models were being rushed to market the box design was quickly changed to feature Superfast on the off-sides and as a logo on the front of what was basically the regular wheel F style box.
In the case of the Mercury Commuter Station Wagon the same picture of the model was simply modified to have the mag look Superfast wheels for a second box variation which we designate as F-SF2 style.
Subsequently when the first new design for Superfast models, the G style box series, was issued a third style for this model was released.
RecoverToy now has all three Mercury Commuter Wagon box variations available as reproductions: